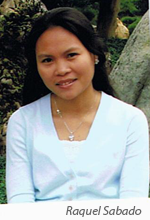 All women love that extra attention from men, whether from their loved ones or sometimes from an attractive stranger.
Raquel Sabado had both experiences after using the upgraded version Dream Love 1000® perfume.
Her first experience happened in the park where she was having some leisure time with her friend Angela. They were enjoying the breeze when suddenly she heard a voice next to her say hi. She turned her head and saw this young foreigner smiling. Raquel responded with a "hello" and noticed her friend Angela was smiling too.
The foreigner introduced himself as Matthew and they both started to have a conversation. He was a tourist from Europe and was also just enjoying the scenery. As they spoke, Raquel noticed his body moving closer to her and his lips near her face. This was all very shocking to Raquel but she felt it was ok to be friendly. Matthew was there for few more days and they met again the next day for a tour around town.
The second experience Raquel had was when she went to the Philippines. At the airport she was amazed as her boyfriend was so passionate and she told us he embraced and kissed her like never before. She further told us how unforgettable that night was for both of them. He couldn't get his hands off her and told her she smelt so good at least 6 to 7 times.
Dream Love 1000® attraction perfume has proven to increase the male libido with its active ingredient. It was first launched in 1999 and upgraded in the year 2005 to enhance the attraction effect. There are over 1.8 million women using it since its launch.