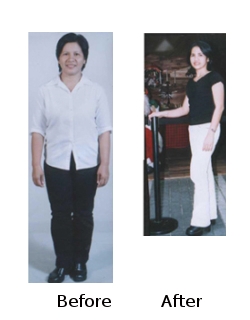 It had been 17 years since Alice Acosta left for San Francisco.
She had just finished graduating from Pasig City High School then and was looking forward to entering college in the Philippines. She flew to the US on her parents' insistence to pursue her college life there. Disheartened about leaving her boyfriend at that time, Alice committed Bernard to memory.
Years came to pass and she became a successful woman, building her own catering business. She married an American client but they were not blessed with any children. The marriage ended before they knew it.
Alice blamed herself as she became engrossed with her food business which made her gain weight. She felt and was told she looked 5 years older than her age after the divorce.
Her very close friend, Elizabeth, introduced her to the upgraded Dream Love 1000® 5 in 1 body lotion (made in England), which had many effects all in one lotion.
Elizabeth told Alice that the lotion was available online at www.dreamlove1000.com and could be ordered by a toll free number. She told Alice that it is a "must try".
Alice visited their website and found it very interesting with real life newspaper reports, and that it was proven non-allergenic and safe to use. She read about how the lotion helped reduce fats, whiten the skin, and also about the very important youthfulness effect it had.
Alice ordered her package by phone and kept her hopes high as she had many expectations from the product. Upon receiving the lotions by mail within 7 to 8 days, Alice used it everyday as per the instructions she found inside the box.
In a short span of time she started to notice her skin becoming very smooth, firm, and overall started to become naturally whiter. She felt her fats on sensitive areas was reducing. Her family and friends started telling her that she was looking much younger.
In a period of 2 months she measured herself, and was surprised to have lost two inches on her waist and hips by using a total of 3 tubes.
Another friend, Marsha, introduced Alice to Ricky, a Filipino working in the Bay area as well. They have now been dating for about a month and Alice knows that the upgraded and improved About Dream Love 1000® 5 in 1 lotion was one of the main reasons why Ricky was so attracted to her looks.